GlobalForms
Web Forms Automation Software
Collect information with intuitive web forms that eliminate repetitive processes, securely store your data for easy access, and improve process visibility.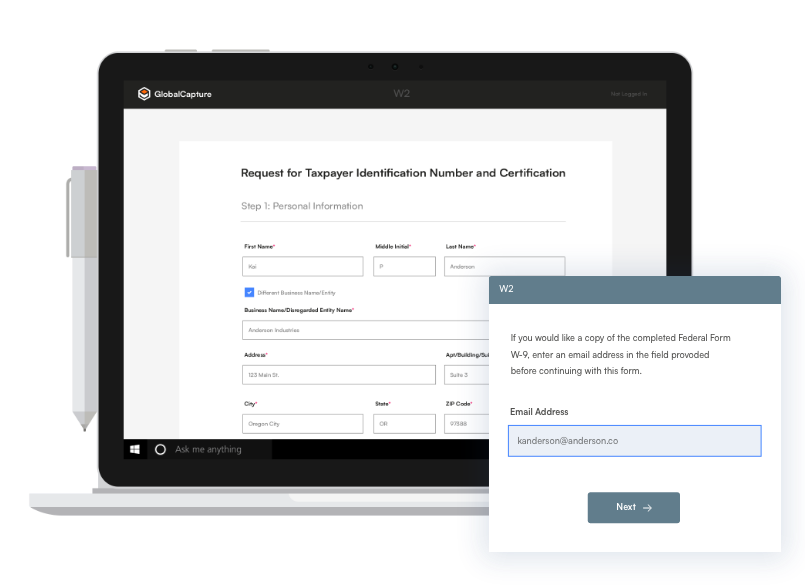 OUR FORM AUTOMATION SOFTWARE HELPS YOU COLLECT DATA FASTER & SMARTER
Flexible, modular, and readily scalable
Document capture automation with GlobalForms allows for real-time engagement with your audience.
User-Friendly Designer
GlobalForms offers robust styling options for easy form creation with its browser-based platform. Simply drag-and-drop form fields onto the designer to build a unique form.
Custom Layouts
Add calculations, language localization, conditional fields, images and more through simple point and click options, no coding required. Makes building forms simple and ensures you collect all the required data you need before the submit button is hit.
Routing
Automatically route the information collected as a complete document for approval or to notify users of required action. Easily integrate web forms into capture workflows to create a single process for working with data.
Customizable Options
Leverage Square 9's digital library of common forms for various business use cases, including expense reporting, PO requests, employee onboarding, tax form collection, medical forms, and much more or create your own custom forms.
Prebuilt or custom: Web forms delivered the way you need them
Automate the collection, routing, and storing of information you collect daily to free up your team to focus on more important tasks. Our easy-to-set-up and easy-to-use web forms solution allows you to:
GlobalForms enables you to collect information completely paper FREE saving you money on paper and printing while eliminating human errors and blank fields, so you can act on that information much faster.
You can guarantee question consistency on each and every form your team creates.
GlobalForms can be responsive across mobile devices and tablets, therefore widening the reach of how many people can access your form to fill it in.
With automated calculations, automated routing, and the ability to save your inputs and complete later, you save hours by eliminating lost work due to missing information or interruptions.
How our web forms management improve your business' efficiency:
Design
Quickly and easily create custom web forms through a highly intuitive drag and drop web platform with a user-friendly look and feel. With decorators and test views, you can easily format your form just the way you want to work across desktops, tablets, and smartphones.
Collect
GlobalForms allows you to leverage the power of capture workflow processing. When a web form is submitted, collected data is automatically populated onto other forms, streamlining the entry of repetitive information.
Automate
Once the data is captured, you can easily create and define custom workflows with automated commands for routing field data for further actions. This includes sending email notifications and circulating for approval.
Common Tasks Simplified with GlobalForms
Recognized for its ease of use and advanced functionality, GlobalForms web forms management solution can move your sometimes confusing and often time-consuming paper forms to a guided, intuitive, optimized process.
Available in the cloud or on premises
Easy-to-use creation tool to generate custom forms with rules and logic
Create both secured and public forms
Includes auto-population, auto calculations, and the ability to save your work, along with routing for approvals and notifications
A growing library of pre-built forms
Share with virtually any ERP, CRM, HRM, or BPM platform

Customer Success Stories
Commers Water Keeps Information Flowing Throughout Their 3 Locations
Commers Water is a Minnesota-based water treatment and conditioning retailer specializing in the sale, rental, and maintenance of various water treatment systems. Founded in 1947 on the promise of delivering a better water softener for Minnesota's notoriously hard water, Commers Water is a 3rd generation, family-owned business with 3 locations. Their Blaine office houses their accounting and service departments, and their other two sites are for retail.
The best part about this solution is the consistent flow of information going to the right place, at the right time properly. I was also happy to see that 50% of our sales staff do not use paper at all anymore by keeping their sales notes on the digital lead form and then making additional notes after the form is stored in the archive.
Web Forms Management FAQs
Q.
What are web form automation solutions?
Answer
Web forms allow users to enter information on secure browser-based forms for storage in an online repository. Our solutions store that information so that it is poised to be put to use.
Q.
What are web form automation solutions used for?
Answer
Any business where customers or employees need to fill out paperwork can use web forms to streamline and digitize the process.
Q.
Would my business benefit from web form automation?
Answer
If your organization has lengthy or complex forms or uses other digital solutions in conjunction with paperwork, your business could likely benefit from web forms. It may also benefit from automatic routing to a secure and compliant repository for increased business visibility.
Q.
Are web forms easy to create?
Answer
Look for web form solutions that offer drag and drop functionality and limited coding required for formatting and design. GlobalForms from Square 9 Softworks simplifies the most common tasks for form creation through easy-to-use pull-downs selection menus.