Square 9 for Finance
Financial Services Document Management Software
Store, view, and collaborate on documents electronically, without the hassle of inefficient paper-based processes. Our solutions help you manage your financial documents while ensuring you meet regulatory and security requirements.
Reduced costs in storing, searching for, and handling financial documents
Enhanced security and compliance with SOC 1 and 2 compliance certifications
Automate tasks like three way matches and approval routing
Streamline document and data management in accounts payable and accounts receivable while reducing errors and double data entry
Store all financial documents with a proven disaster recovery backup solution in the event of a natural disaster, global pandemic, or power outage. Permission-based access ensures only authorized personnel can view, edit, or share.
Reduce time spent retrieving documents with immediate search results based on keywords.
End unnecessary, inaccurate, and redundant financial data entry and streamline overall operations.
Manage the flow of financial information to ensure proper organization company-wide and improve accuracy on approvals with streamlined routing to the appropriate department managers.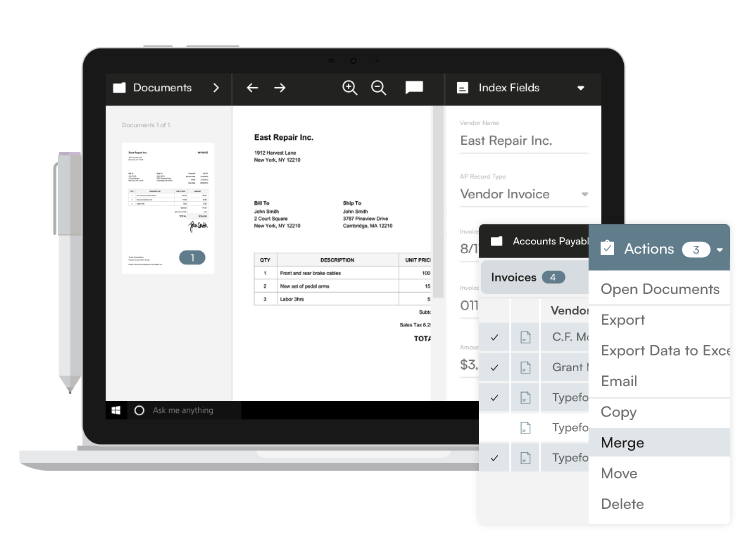 POPULAR INTEGRATIONS
Featured Products
Vital tools for your Financial Organization
We've helped countless finance departments and firms improve efficiency and gain a competitive edge.
Resources:
Success Stories
See what's possible and get inspired by the growth our clients are experiencing across industries and use cases.
Product Videos
View short videos to see how digital transformation and automation can help you. Also find demos of our products in use.
Webinars
Discover the benefits of digital transformation, document management, and automation through live and on demand webinars.
Grow your financial business with Square 9
Let us help your business on your digital transformation journey to simplifying common business tasks
Intuitively designed for ease of use
Streamlined process automation
Efficient OCR data extraction improving the speed at which you capture data
Prebuilt solutions for fast and easy implementation
Scalable solutions for organizations of all sizes
Growing library of powerful Web Forms to get you started fast
Free e-learning for your entire organization on their schedule

Success Stories
GlobalSearch® Document Management Software Subtracts Bulky Paper Documents for Accounting Firm
Custom Professional Accounting had run out of storage space for its clients' paper records and turned to an enterprise content management solution. The first solution the company tried, however, had some highly disconcerting "glitches." In contrast, the GlobalSearch Content Management Suite from Square 9 Softworks proved to be affordable, easy to use and extremely reliable—increasing the efficiency of the firm's seasoned accounting pros by 35 to 45 percent, while literally shredding its document storage requirements by about 90 percent.
Everybody here just loves GlobalSearch. It's so easy to use, it's very affordable and it's easy to learn, too. If you're trying to get into the 21st century, paper is just not the way to go. I would strongly recommend GlobalSearch to others—and I have!
Subscribe to get the most recent news, best practices, product updates, and our take on emerging tech