Common tasks simplified
Taking the Paper
Out of Work
Paper-based work is a soul-crushing, profit-sapping drag on individual, team, and company productivity. Paper literally smothers innovation, creating a competitive disadvantage.
The Square 9 AI-powered intelligent document processing platform takes the paper out of work and makes it easier to get things done with digital workflows that automate many aspects of how you work today. We make it easy by extracting information from scans or PDFs, storing documents in a searchable archive, and building digital twins of your current processes through graphical workflows.
Proven Track Record: With years of experience and a satisfied customer base, Square 9 is a trusted name in the document management industry.
Scalability: Our solutions can grow with your business, accommodating your evolving document management needs.
Exceptional Support: We provide top-notch customer support to assist you every step of the way.
Trusted and Reliable Solutions
Recognized throughout the industry as a leading solutions provider
Our award-winning document management solutions have been praised by industry experts and recognized for their unique strengths, including:
KeyPoint Intelligence: Buyers Lab Pick Awards, 2020-2022
Recognized by G2 as a leading developer of Enterprise Content Management software
Marcum Tech Top 40 Award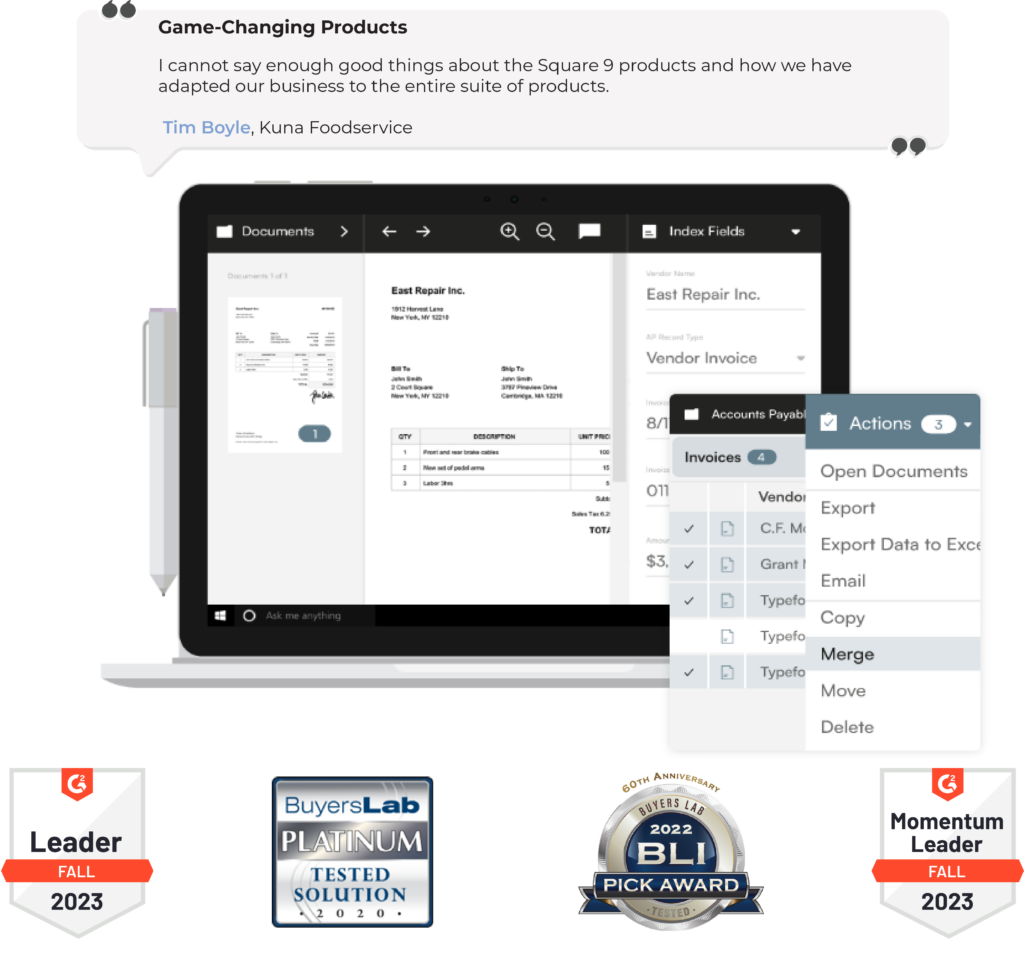 A Long History of Satisfied Customers
When our clients are happy, so are we.
Featured Products
Digitally Transform Your Business
With Our Intuitively Designed, Secure, and Innovative Solutions
Welcome to another #TrashItTuesday #Agriculture edition
From permits to compliance forms to purchase orders and invoices, the agricultural industry has documents to manage like any other business. A #DigitalTransformation can help organize these documents, making them easily searchable when they're needed.
Follow Us