At Square 9, we pride ourselves in our Software Support services. The entire Software Support team works together to ensure your experience reflects Square 9's values of building open, positive communications that efficiently leads to the goal of solving your business challenges. We wanted to take the opportunity to introduce Support Engineer, Patrick Hyland, and how he works to improve your Square 9 experience.
Meet Patrick and learn more about the support team behind you!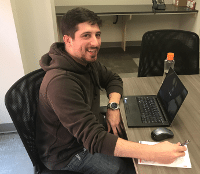 1. Please explain your role at Square 9.
My job mostly includes talking to customers who are experiencing issues with our software. Issues can range from very simple questions about how the software functions or is used, to more in depth issues such as database issues or isolating domain trust conflicts. We really do run the gamut in terms of complexity from case to case.
2. What is the most common challenge you help customers solve? What is the outcome?
There's no trend towards one particular issue over the long term. I think the biggest challenge we face as a department is making sure that clients are educated. I think that on the whole, this department is really well equipped to fix problems – ensuring that we can provide our clients with the knowledge as to why their issue arose and how they can prevent it in the future is something we all work very hard on.
3. How do Resellers utilize support to help solve customer problems? Can you share an example?
We're pretty involved in getting our Resellers educated on the fly. We, of course, have an education system that helps to teach our Resellers the ins and outs of big product updates and features, but the one-on-one support we offer to Resellers delivers a unique learning opportunity just by exposure. Our Resellers are always asking questions on why a certain issue might crop up, and we offer both verbal and written guidance on the framework of the systems we use. We very frequently distribute more up-to-date guides to Resellers who may not even be aware such guides exist. I personally try and take some time at the end of almost every call to summarize to the Reseller what changes, if any, were made, and I always try and confirm with them that they understand why those changes affected the solution.
Additionally, I'm personally involved with the creation of a new Reseller-facing knowledge base*, so that our Resellers will have more access to much of the technical documentation that we use internally. It's our hope here that this will allow our Resellers to better directly support their customers more responsively while simultaneously gaining a better understanding of the core systems of GlobalSearch and GlobalCapture.
*Editor's Note: Look for the Square 9 Knowledge Base coming later this year!
4. What makes Square 9's Support team different and unique from any other?
We have a really diverse team of people with a lot of skills and talents sometimes not found in the field. While we're all clearly very technical people, we have a staff filled with multidisciplinary individuals. I think that gives us not only a bit of personality, but it also lends towards breaking some stereotypes of what the "Help Desk" is, and I think that's great.
We also have really great leadership here. Our Senior Techs are knee deep in the product, and are always ready to help (despite their own personal case load) and our department manager is actively involved in challenging cases. Because I know I have a really good personal support net around me, I have the ability to learn by running the "trial by fire" on especially challenging cases, and never feel like I'm in danger of falling too far. Nine times out of ten, the case isn't "too hard" or "too advanced" – it's just a matter of getting over a mental blocker, learning something new, and incorporating that into your total body of knowledge.

Have Questions? Looking for Additional Information?
Reach out to the Square 9 Software Support Team Today!