Square 9 Business Essentials
How ECM software works
Enterprise Content Management (ECM) software, sometimes referred to as document management software is a cost-effective, automated way to digitally transform how you manage your information, including the storage, retrieval, and sharing of documents to improve productivity and make common tasks simplified. 
Product Features
Effortless digital transformation
Enterprise Content Management transforms paper-based processes into digital information giving you immediate access to the data you need via a central repository. You'll make informed decisions faster than ever before giving you an advantage over competitors while eliminating paper and storage costs
Powerful search and retrieval
Use flexible search tools to locate information in seconds using any combination of keywords, phrases, addresses and much more. Then, share that information with your colleagues in or out of the office through a web-based platform that includes document routing and email notifications.
Security and compliance
Protect your records with security that controls access based on permissions while tracking who has viewed or modified a document. Establish record retention policies that ensure you're always in compliance with regulatory mandates.
Defined business processes
Enforce policies and procedures by developing defined, automated processes while notifying users of required actions and tracking related activity.
Disaster recovery
Most businesses are unable to recover from destroyed documents during a disaster. Protect your data against theft, fire, floods, hurricanes, tornados, earthquakes, global pandemics, and any other related disaster with access to your critical information no matter what the situation to continue business as usual.
More About ECM
Product Videos
View short videos to see how digital transformation and automation can help you. Also find demos of our products in use.
Webinars
Discover the benefits of digital transformation, document management, and automation through live and on demand webinars.
Success Stories
See what's possible and get inspired by the growth our clients are experiencing across industries and use cases.
How can ECM help my company?
Document-intensive departments including accounting, human resources, legal, compliance, and wellness are the best places to start implementing Enterprise Content Management. Square 9 offers a pre-built ECM solution, Business Essentials, covering all these core business areas. 
You can start in just one department and easily expand to other departments or transform all your core business processes at one time; the choice is yours. And, it is easy to compliment your Business Essentials solution with additional automation like workflow and web forms management to eliminate paper and PDF forms. Getting started is easy. With Business Essentials, it takes just hours, and there is no disruption to your current business processes. 
Award-winning ECM
Give your team easy and immediate access to business-critical information from any location at any time. Designed to be implemented quickly with no disruption to your business, Business Essentials is an affordable cloud solution that has a 99.9% uptime and is SOC 1, SOC 2,  and HIPAA compliant. 
Available in the cloud for reliability, security, data protection, and reduced IT costs
Pre-built with the ability to select the tools you need for your specific business
Easy to use and navigate with a wizard approach reducing cost and effort to get started
Accessible on a variety of platforms, including PC, Mac, mobile, for anywhere access
Identity and access management with single sign-on
Secured by role-based access controls to prevent unauthorized users from viewing or editing content
FAQs
Q.
What is Enterprise Content Management (ECM)?
Answer
Enterprise Content Management is the digital organization of your business documents allowing for smarter, simpler, secure access to your information.
Q.
Who uses ECM?
Answer
All types of organizations looking to streamline business processes and increase productivity can use ECM. Content management systems reduce costs and boost efficiency across common tasks performed in accounting, human resources, legal, sales, marketing, compliance.
Q.
Why is Enterprise Content Management important?
Answer
Enterprise Content Management (ECM) supports remote work, team collaboration, and business continuity in the event of a natural disaster, pandemic, or power outage. Store information properly to reduce inefficiency and avoid the leak of crucial data. 
Q.
How difficult is setting up an ECM solution?
Answer
Out of the box, ECM solutions take time and careful planning to implement, but Square 9 offers a variety of proven, pre-built, downloadable solutions for several industries that can be effortlessly implemented within a day.
Business Essentials provides all the tools you need for improving productivity across your most document-intensive departments.
Invaluable for both accounts payable and accounts receivable through automation of invoices and PO approval routing. This drastically cuts the time to perform a three-way match and helps to end late payment fees and keep payment flowing in.
Rest assured, employee information is secure yet easily accessible by those with permission in the event of a payroll review or audit. You'll easily onboard new employees with secure forms and automated storage.
Protect your organization from penalties by securely collecting and managing critical tax information. Using a permission-based, SOC 1 and SOC 2 compliant repository, you'll safeguard your business, improve vendor and contractor relationships, and speed up vendor onboarding.
Organize and categorize your agreements in a meaningful way and then launch them to Microsoft Word for editing or printing. Ensure your contracts are reviewed, edited, and approved on time by automating notifications.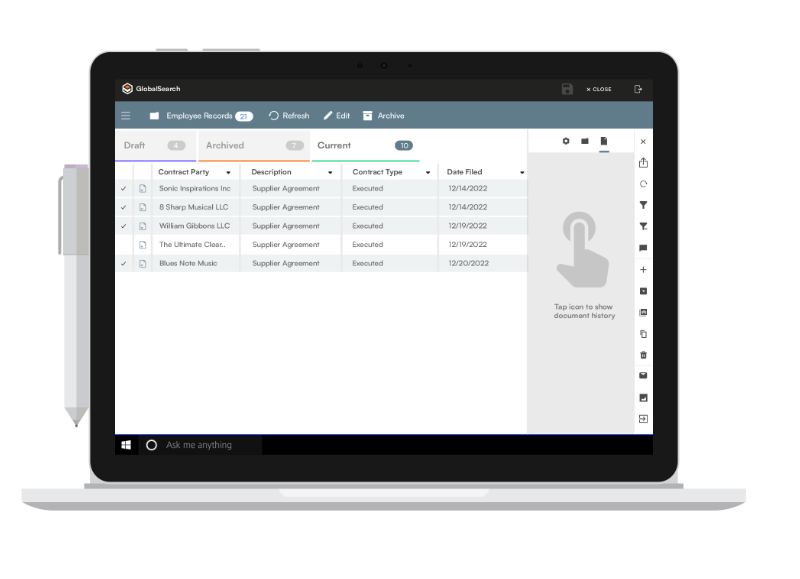 Kat Haas, Elder Care Alliance
Jun 10, 2022
Creating great efficiencies for our organization!
Our old, paper-based contract workflow process had many snags - lost documents, unknown status, incomplete signatures, and no tracking of milestone dates. Square9 allowed us to easily design a system that mirrored our workflow, provided easy ways to upload documents, and most importantly - uses automatic reminders of milestone events based on dates in the actual contract. We are very much looking forward to its full implementation as our employees get used to navigating a new system and have every confidence that it will create great efficiencies for the organization!
Tim Boyle, Kuna Foodservice
Dec 17, 2021
Game-Changing Products
I cannot say enough good things about the Square 9 products and how we have adapted our business to the entire suite of products.
Jill Falcon, Finance Admin Assistant, West Central District Health Department
Dec 17, 2021
Easy document retrieval
Square 9 makes retrieving documents a breeze.  When something is needed it can easily be emailed saved or printed, in only a matter of minutes.
Linda-Sophia Danielsen, CEO, IntraVAT Tax Compliance
Dec 14, 2021
Outstanding Professional Services
We had very little time to get the system up and running due to a cyber-attack. Even with COVID and Selectec (The solutions distributor) being based in the U.K. everything was just running so smoothly
Sheila Burak-Farquharson, Office Manager
Sep 7, 2021
Simplifies Uploading and Storing Financial Documents
Details: We would definitely recommend GlobalSearch to our peers. It's a very cool process to scan and store documents, especially for small businesses. It's very fast to scan the documents in, and there is little to no delay time when it gets into GlobalSearch. It's very convenient. I can scan anywhere from 100 to 600 documents in the office and then go home and index the documents if I needed to.