Why More and More Businesses Are Making the Jump to Cloud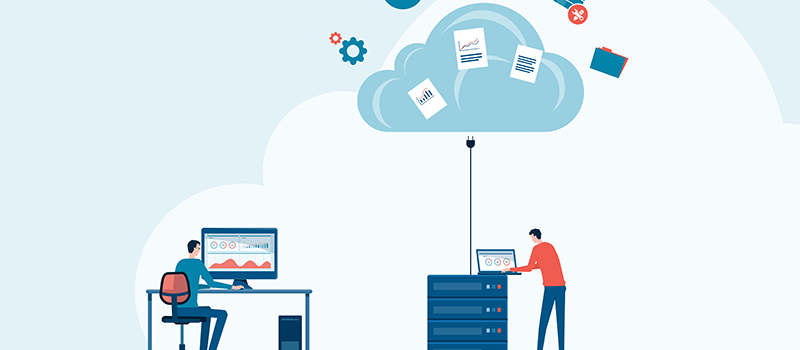 As major software developers like Microsoft and Adobe continue to switch their platforms to cloud models, it becomes ever more apparent that cloud computing is now the preferred choice for both solution providers and customers. And a quick Google Search on the subject clears up exactly why: "Dubbed better than on-premise due to its flexibility, reliability, and security, cloud removes the hassle of maintaining and updating systems." 
In addition, statistics on the state of the cloud computing market by Fortune Business Insights predict a 19.9% compound annual growth rate in the cloud market between 2022 and 2029, further confirming the desire for this model.
This preference for the cloud among solutions users comes with good reason. With more hybrid workers than ever before, the flexibility that cloud solutions provide is far more crucial. What's more, the shift of maintenance responsibilities from solutions customers to providers allows both parties to focus on their core business strategies.
Adapting to a New Type of Workforce
Over the past few years, companies have quickly picked up on the benefits of a hybrid workforce. By reducing the number of days employees spend in the office, organizations benefit tremendously by:
Reducing their rented space

Increasing their geographic hiring range

Providing an incentivizing benefit to attract top talent
What's more, employees are also surprisingly more productive, benefiting from a better work-life balance and increased flexibility.
The current result of these findings is a workforce where, according to code submit, 62% of employees between 22 and 65 say they work at home at least occasionally and where, according to owl labs, 80% of employees expect a hybrid workplace.
This new way of doing business is not without challenges, though, as many companies struggle to provide job critical information in a way that is equally convenient both at home and in the office. But in many cases moving business applications and solutions to the cloud completely solves this challenge.
Cloud-based

Enterprise Content Management

solutions make documents conveniently accessible from anywhere.

Web Forms

solutions allow employees to complete paperwork digitally and route it to the correct department.

Document Capture

solutions digitize, index, and leverage information from paper documents allowing them to be remotely collaborated on.
Effortless Maintenance in the Cloud
From server security to regular maintenance costs to ensuring all of your data is backed up for an emergency, cloud solutions providers take these responsibilities off of your hands and leave it to highly specialized staff who manage it all in a controlled environment.
Enhanced Security
Security breaches come with countless risks for companies that fail to implement adequate protection. From the loss of consumer trust and tarnished brand recognition to immediate threats such as lawsuits and fines, the consequences of data breaches are not worth leaving to fate.
On-premise solutions are hosted on local servers, and the procedures and best practices for protecting data may not always be up to date. 
Cloud providers like Square 9 go to immense lengths to ensure that adequate procedures and protective measures are in place in the event of a data breach. SOC 1 and 2 compliance strongly indicates that a provider can adequately protect your data. Companies certified with this compliance have proven best practices in place. Encrypting data in storage and transit is another highly effective security measure that ensures data can not be accessed without proper authentication.
Faster Disaster Recovery
Although for many businesses disaster recovery may seem like a distant need, the sudden and immense risks are worth being prepared for.
40% of businesses never reopen after a disaster.

25% of businesses fail within a year after.

90% of businesses fail within 2 years of a disaster (FEMA).
These companies often find themselves without access to business critical information, and much of it never gets recovered.
On-premise solutions require active effort from your IT department to be backed up, and unless these backups are stored off-site, they are still at risk of being destroyed in the event of a disaster.
Cloud providers take care of these server back-ups for you and even keep backups in multiple locations so that one disaster can never wipe out your data. And in the event a disaster strikes your business, your employees can start working remotely with full access to the information they need instantaneously. 
Consistent Server Maintenance
Dated and poorly maintained servers come with a host of problems ranging from unpredictable errors to prolonged system downtime. A business solution should be reliable, but maintaining these servers yourself can have unexpected costs including:
Hardware purchases

Updated software

Cooling

Server repairs
These maintenance costs typically amount to 20% of the initial solution cost and do not even include the salary of a paid IT professional who can make up to $75,000 a year.
Once you factor in that the initial cost for a mid-market solution is about 10,000 dollars and that a server can cost around $6,000, the 5 year-cost of an on-premise solution quickly approaches 95,000 dollars.
Compare this to a guaranteed 5-year cost of $16,680 for a $ 278-a-month cloud solution and the savings are immediately recognizable. What's more, cloud providers take on the responsibility of maintaining these servers and ensuring all infrastructure is up-to-date and functional. Providers like Square 9 even provide their customers with servers with 99.999% uptime, ensuring your solution is available whenever needed.
Square 9 is an award-winning provider of cloud solutions for improving document-based processes. Square 9 provides solutions for each stage of your digital transformation, making use of Enterprise Content Management, Document Capture, Business Process Automation, and Web Forms to guide you along your digital transformation journey. For more information, contact us.