6 Features to Look For in a Scalable Document Automation Solution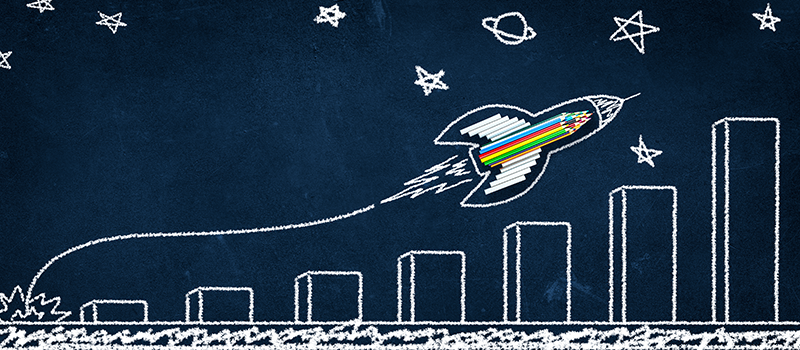 There is no doubt that dynamic and flexible businesses excel in today's fast-paced world. They can adapt to market changes and trends much faster and adjust in the face of economic uncertainty. With global shifts in the workplace like we've seen for the past two years, these businesses can adapt to workplace trends to attract and maintain the best talent. 58% of respondents to a survey by FlexJobs want to remain fully remote post-pandemic, and another 39% want a hybrid work environment. 58% of respondents to this survey even said that they would look for a new job if they couldn't continue remote work, making this cultural shift imperative to adapt to. Digital consultant agency New Republique even stated that "developing a business that is adaptable and agile, that has the ability to mobilize fast data, pivot and evolve, is the only way to withstand and thrive in a time of dynamic change."
One thing many businesses aiming to be flexible can overlook is the scalability of their digital solutions. After all, a business's processes and workloads change depending on many factors, including financial cycles, market shifts, and economic conditions. A solution that scales with your business needs is paramount to success, and there are many ways your document automation solutions can offer this flexibility.
Additional Functionality:
As your business grows and its needs change, you will likely have to automate more document-related processes. After all, digital transformation is an ongoing process. According to McKinsey research, 31% of companies have automated at least one function, and 66% are at least piloting a solution to automate a single process. This is because digital transformation happens in phases, and the efforts must be scaled up over time. Only 20% of businesses have no plans to automate their processes. And 27% of company's consider digitally transforming "a matter of survival." While there are countless tools on the market to help you digitally transform your business, finding a document automation solution that includes certain functionality and is designed with enough flexibility can ensure your solution's performance continues to match the growth of your business. Functionality to look for includes content management, document capture, workflow automation, and web forms.
Enterprise Content Management:
Enterprise Content Management (ECM) is the backbone of any document automation effort. But in addition to being a springboard for a digital transformation, ECM also serves a valuable function, so it's crucial that the solution you choose serves that function well. Ideally, an ECM system alone can help you store, retrieve and share documents quickly, securely, and with the correct people. Features that help you index documents faster, like Keyfree Indexing in Square 9's GlobalSearch, and features that reduce touchpoints like a streamlined interface or built-in workflow automation can ensure that documents are indexed quickly. To retrieve documents quickly and easily, it helps to have advanced search capabilities like layered searching and a provider who can help you set up best practices for document indexing. 
As for sharing documents securely and with select people, an ECM solution with secure, permission-based access, when implemented with industry best practices by an experienced provider, can ensure that document access is limited to those who need it. However, the scalability of permission-based access can also vary depending on whether user licenses are tied to individual accounts. If licenses are tied to accounts, you may need to buy a license for each account with a unique combination of permissions. By contrast, solutions that don't tie accounts and licenses together allow you to create far more accounts, each potentially with unique access permissions that ensure document security.
Document Capture Automation
A document capture solution is a must-have for most businesses looking to digitally transform their document handling. Extracting usable data from paper helps index your documents for easy retrieval. It also provides valuable business insights when used in tandem with other solutions. Providers can offer a variety of document capture best practices to help your business scale and which to use depends greatly on your workload and budget.
Keyfree indexing, which allows you to index documents simply by clicking on the desired text, is a powerful tool to start your digital transformation. Providers like Square 9 softworks provide this level of capture with their ECM solution, but because it still requires human touchpoints, it is less ideal for large workloads. This level of capture is also only usable to index documents. A step up from Keyfree indexing is templated capture, which allows you to map documents and use that map to capture text from specified areas in the document format. This level of capture can send information to other solutions and requires fewer human touchpoints, especially if you plan to capture many documents with the same formats. The final level of capture requires no human touch and no document mapping. This hands-off approach frees up tremendous time for your business, but the price point makes it most effective for large document loads.
Having these options available to you through a single provider allows your business to retool as it grows while keeping your larger solution intact, ensuring your core processes remain efficient.
Workflow Automation:
Another crucial component of digital transformation, automated workflows remove human touchpoints from core processes, saving your employees time. Being able to send captured documents directly to your ECM system to be archived or routing budget proposals, expense reports, or other documents to upper management for approval are both examples of workflow automation. They keep information flowing and enhance business productivity. Here is an example of how Square 9 can help automate an invoice workflow: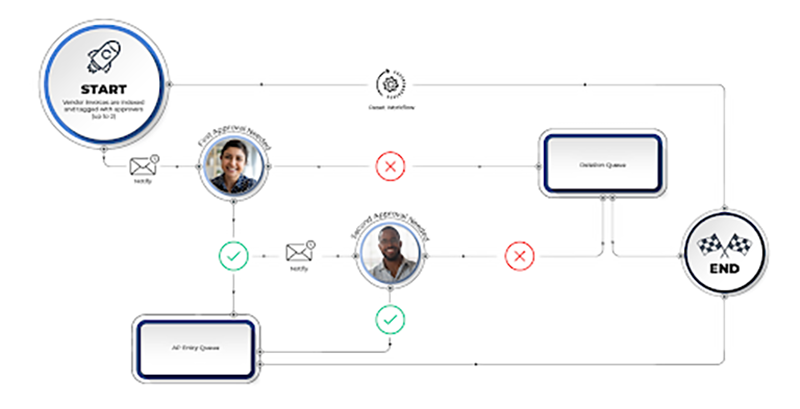 For workflow automation to be scalable, it needs to be relatively simple and disruption-free to implement new workflows. Square 9's workflow automation solution, GlobalAction, has a graphical interface that allows your business to cleanly and visually map your workflows. This feature is handy for implementing new workflows. Having a way to track the state of your workflows with dashboard statistics is also a key feature to look for. It helps you catch potential disruptions early and even eliminate most disruptions altogether, especially when taking advantage of a separate testing environment. Knowledgeable and experienced implementation specialists can also make a world of difference when trying to scale up solutions like workflow automation, so a provider that provides and encourages you to use those services is a great sign that they prioritize scalability.
Web Forms:
Web Forms can also be a powerful addition to document automation. After all, eliminating paper from the process altogether opens up the potential for automation all the way at the start of document creation. Web form solutions like Square 9's GlobalForms simplify complex forms by intelligently predicting inputs, automatically performing calculations, and only asking for relevant information as the solution learns from previous inputs.
As with all solutions, though, web form solutions can be designed with or without scalability in mind. Having a code-free interface to create forms lets you add forms quickly and painlessly as you need them. Scalable web form solutions can also be used easily in tandem with outside solutions. Square 9's GlobalForms, for example, works incredibly well with their other digital transformation solutions but can also be used with solutions like one drive as well. Adding new forms and solution integrations to your web forms solution ensures that the system will continue to provide value as your business grows. 
Integrations:
While a solution provider that prioritizes scalability should offer most if not all of the key components needed for their solution's scalability, your company will undoubtedly need or may already have other solutions to perform other functions as it grows. This is why for a document automation solution to scale, it must work with other third-party solutions.
One of the most important parts of integration with a document automation solution is ensuring business information is shared between solutions. Information captured from documents, for example, should be automatically archived into other relevant solutions. Financial data from forms, for example, should be automatically transcribed to your enterprise resource planning (ERP) solution or an accounting solution like Quickbooks or Microsoft Dynamics. This removes the potential for human error during transcription and saves employees time. 
Looking up documents in your ECM system from other solutions is also a powerful feature to consider. Accountants, for example, often need to reference financial documents quickly, and sales representatives could greatly benefit from referencing sales orders within their CRM system. Square 9 softworks also offers Image XChange, which does all of this without integration. By controlling clicking on any text with the feature enabled, that text becomes search criteria for an automatic search in GlobalSearch. Sharing this information between solutions allows for a seamless work environment as your business transforms more processes.
Cloud:
Many large software providers like Microsoft, Adobe, and Oracle are shifting to a cloud model. Even at Square 9, where cloud and on premise options are offered, cloud solutions account for 72% of our new business, and the sale of our cloud solutions has grown 349% over the last 3 years. The market for cloud solutions is growing rapidly, and there are plenty of good reasons for it. Document automation solutions in the cloud remove many of the barriers to scalability. Having a large pool of shared hardware resources, for example, allows some providers to scale your resources up and down as you need them for incredible flexibility in workload and budget. Document Capture Automation is an incredibly resource-intensive process, but a cloud model allows some providers like Square 9 to offer temporary Ram and processing power during busy business periods. With a cloud model, additional document storage can also be easily added to your ECM system. Moreover, all cloud implementations are done remotely, off-site, limiting disruptions to business. Finally, with all maintenance, updates, and regular services for your solution infrastructure included in most cloud packages, your business can scale up its systems without worrying about the costs associated with these needs.
Square 9 is an end-to-end solution provider for document automation, offering content management, document capture, workflow automation, and web forms solutions both on premise and in the cloud. Interested in digitally transforming your business? Let us know how we can help!