A New Years Resolution: Jump Start Your Digital Transformation With 3 Key Factors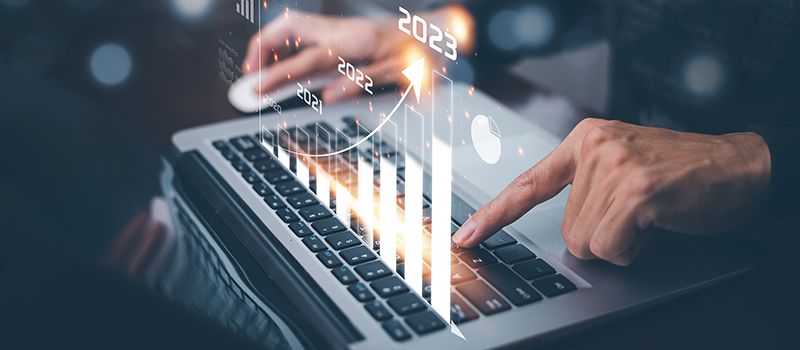 2022 is quickly coming to a close, and in preparation, many businesses are analyzing data, making predictions, and planning for what 2023 may bring. One key trend that continues year after year is the emphasis businesses place on digital transformation. Being valued at $737.88 billion in 2020, the digital transformation industry is expected to be worth $3,546.80 billion in 2028, according to Fortune Business Insights. What's more, shocking statistics published in Forbes Magazine show that 89% of all companies have adopted or plan to adopt a digital-first strategy and that for 27% of them, digital transformation is a matter of survival.
Workflow automation, document capture, and document management have proven to be extremely valuable pieces of many organizations' digital transformation plans, with expected growth rates of 9.52%, 12.68%, and 16.8% from now until 2027, 2028, and 2029 respectively.
With so many factors that play into a successful digital transformation, it can take time to know what to look for in a solution. Here are 3 key factors to consider when jumpstarting your digital transformation for 2023.
1. Cyber Security Is King
We live in a world with vast amounts of information at our fingertips, but we sometimes forget that the progress we've made is a double-edged sword. Both intentional and accidental leaks happen with surprising frequency, so it's no wonder that 44% of IT professionals have placed cyber security in their top 3 priorities for the upcoming year according to Red Hat's 2023 Global Tech Outlook.
There are simple steps that solution providers can take to safeguard information, both when implementing on-premise solutions and when hosting data in the cloud. For one, permission-based access to information ensures that users can only see the information intended for them. In addition, permissions are often tied to accounts, so solutions that don't tie those accounts to licenses offer greater flexibility and affordability in how permissions are set up.
Another helpful way to secure information on-premise involves logging in through secure, third-party services. As long as these services have high standards for security, allowing users to log in with those credentials prevents them from creating flimsy, albeit easy-to-remember passwords for your solutions.
Another way to ensure secure logins is by choosing a solution that uses two-factor authentication when logging into new devices. Requiring a code to log in that is sent to the user via text, email, or verification app adds another barrier for potential hackers to overcome. In fact, according to an article by comparitech, enabling this process through an authentication app can offer nearly 100% protection of your account. This is because hackers have no way to proceed without access to your device with the authenticator installed. Even enabling two-factor authentication through text or email will, in most cases, stall an attempt on your account long enough for users to be notified of suspicious activity. After this notification, a simple password change will thwart the entire attempt.
For cloud solutions, much more responsibility falls on the solution provider to safeguard data. And while taking this burden off of individual organizations frees up ample time and resources, it does require that these providers take the proper precautions.
Providers that stay compliant with the AICPA's Service Organizational Control (SOC) platform provide a high level of security. They must take great care in safeguarding customer data, follow security best practices and respond to potential breaches with diligence and caution.
A provider that complies with HIPAA is an absolute must for organizations that store medical data. HIPAA-certified providers must follow stringent procedures for protecting medical data and keeping it separate from any identifying information.
More technical security measures that providers can take include encrypting all data both in storage and in transit. This prevents the information from being usable in the event of a cyber attack as it cannot be decoded without a specific, irreplicable key. Another technical measure involves siloing customer data separately from other customers to ensure that actions one customer takes don't affect the security of another.
2. The Cloud Keeps Communication Flowing
Another extremely important priority for IT professionals in 2022, according to Red Hat, is that cloud solutions offer high levels of convenience, lightening the administrative load and improving access to business-critical information.
In addition to the price of the software, on-premise solutions often require additional hardware purchases, network equipment, software licenses, and in-house technicians to support the system. The costs of these purchases can be high, and IT professionals' need for server upkeep can take time away from other business activities. With cloud solutions, all of these costs and services are handled by the provider, further saving your organization money and time.
In addition to these savings, cloud solutions can also enhance collaboration within your organization. According to Code Submit, 16% of companies worldwide are now fully remote, and 62% of workers between 22 and 65 say they work from home at least occasionally. This means that remote access to documents is more important now than ever.
Another key benefit of using a cloud solution is the ability to recover from a disaster unscathed. No one thinks a disaster will affect their business, but the risks are too significant. 40% of businesses never reopen after a disaster, and an additional 25% fail within a year (FEMA). The U.S. Small Business Administration says 90% of companies struck by a disaster fail within 2 years afterward.
The most common reason these businesses don't recover is that they can't access the information they need to operate. Documents are either lost to the disaster on burnt or waterlogged hard drives or reduced to pulp on paper. Even businesses that recover their documents may not be able to properly operate for months if they are displaced and can't access their information remotely. Cloud solutions ensure that your data is backed up in safe off-site locations and that your employees can still do their jobs, even if you don't have an office to work in.
3. Automation Alleviates Excess Burden
Yet another crucial piece to any digital transformation strategy, automation eliminates repetitive and mundane tasks by reducing the need for human input. Automation can be used in virtually any kind of digital transformation solution to reduce errors and free your team up to focus their efforts elsewhere.
Take the task of document retention in an Enterprise Content Management system, for example. To complete this task manually, someone would have to track when each document's retention period has expired, search for the document, and remove it. These human touchpoints take paid time away from other activities. There's also no guarantee that all expired documents were removed or, worse, that a non-expired document was not accidentally deleted. By automating this process, businesses can better allocate employee time and ensure that no mistakes are made in the process.
Another example involves document capture. A capture solution without workflow could simply lift the information from a document and fill in the index fields. But this would mean the solution still requires human intervention to place the document in the correct repository. A well-designed workflow could eliminate this step by using the captured information to discern the document type and route it to the correct location, freeing employees from having to check on this process and allowing them to focus on bigger-picture tasks.
With a secure cloud solution capable of automating repetitive tasks, your employees can work more collaboratively on bigger-picture, growth-generating activities, all with the peace of mind that their data is safe and secure.
Square 9 is a leading provider of digital transformation solutions across countless industries, offering secure, compliant solutions both in the cloud and on premise. These solutions aim to streamline common business tasks through automation, intuitive interfaces, and thoughtful implementation. To find out more about how we can help you simplify, save, and succeed, contact us.