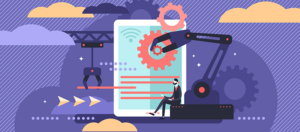 So far, one of the biggest challenges businesses have faced in 2022 has been trying to fill job openings. According to the Bureau of Labor Statistics, the labor force participation rate has dropped from 63.7 to 61.6 over the last 10 years, and with many baby boomers retiring, we are starting to see the effects, but you can keep up amidst labor shortages.
While businesses struggle to fill openings, many are seeing the advantages of turning to technology to streamline and automate their regular tasks. The adoption of Enterprise Content Management (ECM) software has grown dramatically since the start of the pandemic, and according to GlobeNewsWire, the market size for these solutions is expected to grow by 14.3% over the next 6 years.
ECM solutions make managing information far less time-consuming and offer a starting point for automating key document-related tasks, allowing many businesses to do more with their limited labor force. While any business with documents to manage can benefit from a digital transformation, a few key industries hit especially hard by the labor shortage are starting to see tangible benefits from removing slow, manual, paper-based processes and moving to an automated solution.
School systems are seeing an unprecedented number of teachers leave the education sector or retire early. According to an article by Politico, about 143,000 workers in the education sector quit their jobs this past December, and about 55% of teachers say they plan on leaving their jobs early. School superintendents, parents, and even the national guard are substituting in schools to alleviate some of the burdens the remaining educators face.
Document automation can be a tremendous help to the overworked educators who remain teaching. After all, anyone who has worked in a school system knows just how much time is spent on paperwork.
PPT records, student transcripts, permission slips, immunization records, disciplinary records, bus incident reports, and countless other documents can be challenging to keep track of and take time to sift through and find. A digital transformation solution like Square 9's Education Essentials can speed this process up with quick and easy searching. You will also immediately know what documents are missing, giving you greater visibility into missing health records, permission slips, and other documents that may not have been turned in.
Student academic records such as transcripts also must be kept for set periods of time according to FERPA regulations. ECM software can automate these retention periods, removing documents from the system once their life cycle is complete. This eliminates the need to manually manage paper records, saving time and clears up space in your office or content management system, keeping you better organized.
Document automation can also provide better communication to parents, guardians, and others with permission to see student information. With some solutions like Square 9's GlobalSearch, disciplinary records, health records, and transcripts are easily shareable in a secure and HIPAA and FERPA compliant manner.
Health-care workers are facing tremendous burnout from the Covid-19 pandemic, and many are retiring sooner than expected. According to Fierce Health Care, at the current rates, 6.5 million workers are expected to leave the health-care industry within the next 5 years, with only 2 million workers taking their place.
In addition to the many medical tasks health-care workers perform, there is also a need to manage patient health records, insurance information, and other front office documents to ensure patients get the care they need. These paper-related tasks can put extra strain on health-care workers if there isn't a proper system in place to manage them.
With a HIPAA-compliant ECM system, you can easily find the documents you need without wasting time. A proper workflow-guided webforms solution can also help capture health and insurance information from patients quickly and accurately so that appointment times run smoothly.
A cloud and browser-based ECM service like Square 9's GlobalSearch Cloud can be invaluable for telehealth services. It provides medical and insurance records from all of your offices to healthcare professionals with proper permission access wherever they may be. That way, more time can be spent assessing the problem instead of collecting information you may already have.
With business process automation software like Square 9's GlobalAction, equipment purchases and patient billing can also be streamlined. By automating two and three-way matches and approval routing in the accounts payable process, far less time is required to process equipment orders. In addition, with far less manual data entry, clear visibility into patient and insurance payment records, and compliant storage of the documents needed for proof of service, far less time can be spent processing patient billing, and more time can be spent providing medical services.
Supply chain hold-ups and cost increases from rising natural gas prices and inflation aren't the only problems manufacturers are projected to face. According to Adams Brown, as baby boomers retire at an increased rate and workers leave the workforce due to concerns over Covid or vaccine mandates, fewer tradespeople are projected to be poised to fill these positions.
The paperwork involved in manufacturing could only exacerbate these problems. Work orders often follow strict retention schedules and must be signed off on during each step of the manufacturing process. Processing sales orders can also take time, drawing paid employee hours away from other business-critical tasks.
ECM and workflow solutions like Square 9's GlobalSearch and GlobalAction can automate these processes. For example, work orders can be retained for a set period of time before being automatically disposed of. They can also be routed through each stage of assembly to be signed off on by the appropriate signees. The time it takes to place and fulfill orders can also be dramatically reduced with this software. In addition, automated three-way matches and approval routing make managing accounts payable for your materials fast and painless. At the same time, better-retained proof of delivery papers and clear visibility into customer payment histories eliminates hold-ups and disputes in accounts receivable. With all of these tasks being completed with such efficiency and speed, your workers can put their focus elsewhere.
ECM solutions can also bridge communications gaps between departments. With Square 9's GlobalForms, workers on the floor can use tablets and other mobile devices to update information in real-time, while office workers can update information on their desktops or laptops. That same information is available to all workers with permission-based access in all departments, whether it's quality assurance, ordering, production, or somewhere else.
Lastly, document automation can significantly improve the hiring process. Workflow-driven web forms solutions like Square 9's GlobalForms can collect onboarding information like I-9s and W-4s quickly and without hassle.  An ECM solution can help manage employment contracts and facilitate digital signage while providing secure and convenient access to these documents should they be needed. The right solution can also automatically manage these documents' retention schedules.
The automotive industry is already seeing the effects of the supply chain breaks, but according to Claims Journal, a decreased number of repair technicians projected over the next 7 years may continue to drive prices up.
These price increases can be mitigated, however, by allowing auto dealerships to focus on fixing and selling cars instead of managing repair orders and deal jackets. These documents have mandatory retention rates, requiring employees to keep track of when the retention periods expire. Storage for these massive documents can also be expensive as a single file cabinet can use up to 8.5 square feet of space.
Being able to easily access deal jackets and repair orders while ensuring they are retained and stored inexpensively can reduce costs drastically for auto dealers. With these documents retained on a compliant schedule, audits from The U.S. Department of Transportation or the Fair Trade Commission can be completed seamlessly with little preparation. Having ready and guaranteed access to work orders or deal jackets bolsters customer service during customer inquiries about repairs made or vehicles purchased.
In addition to reduced costs and improved customer service, ECM may also boost the productivity of your technicians as well. By giving them direct access to vehicle repair histories at their workstation, they can get the information they need faster and begin work more promptly.
In closing, automation is a fantastic way to maximize productivity and help your business do more with less during a labor shortage. But that's only the beginning. By decreasing job-related stress and allowing employees to focus on less tedious tasks in favor of more meaningful ones, automation also paves the way for greater employee retention and prevents future burnout.
Square 9 Softworks is a leading developer in Content Management, Workflow Automation, Web Forms, and Document Capture solutions. Our goals of simplifying common tasks and making digital transformations accessible to all-sized businesses have allowed countless customers to do more with less and gain a competitive edge. To find out more, contact us.