3 Key Aspects of any Enterprise Content Management Strategy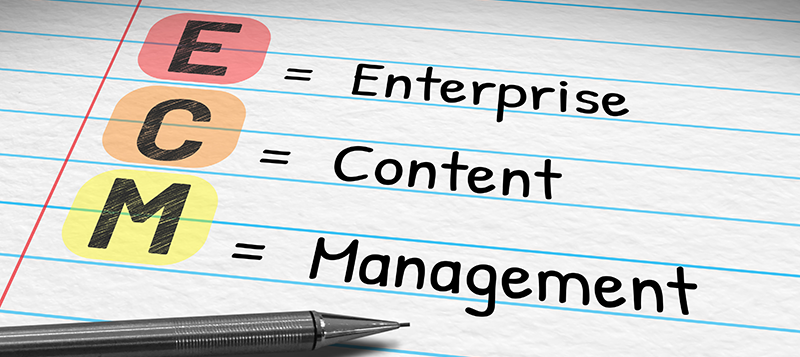 The market for Enterprise Content Management solutions is in a tremendous growth period as companies speed up their digital transformation plans amidst unprecedented global market shifts. Estimated at $12.94 billion in 2018, the ECM market is expected to more than double within 10 years to $32.3 billion in 2027 (Statista). As companies begin transitioning into the digital space, it's paramount to keep in mind the enterprise content management strategies, techniques, and features that ensure fast and efficient capture, storage, use, and retrieval of your information.
Document Capture
Document capture is the lynchpin to any successful ECM strategy. After all, what good is an Enterprise Content Management solution if you can't keep up with the flow of documents that have to enter the system? When looking for a capture solution, it's crucial to ensure that your system will be fast and accurate and work with other systems you may use. If it takes more time to key in documents by hand or requires too many human touches due to the number of errors, the solution won't have been worth the investment. In addition, if you have to key the same data into another system, the processes you sought to speed up will likely still be quite lengthy. To determine the accuracy of capture software, it helps greatly to look at reviews and testimonials from other customers. Document Capture is a resource-intensive process, and its speed relies heavily on hardware performance. As such, it's important to take a good look at the hardware requirements for potential on premise solutions and the packages offered by cloud solutions for allocating processing speed and RAM. To find out if a document capture system works with other systems, it's important to look into the integrations the company offers. If the company offers custom solutions, it never hurts to ask if the desired integration is within their expertise.
Ensuring your new digital capture process contains a limited amount of human touchpoints is also a key area of concern. After all, less human interaction with the capture process means more time those same employees can spend on other tasks. In addition, workflow automation can greatly reduce the number of touchpoints by sending captured documents directly where they need to go.
There are different versions of document capture, each designed for a different workload and price point. For example, using OCR technology to index documents by clicking on the text you want to populate is called KeyFree Indexing. Square 9 offers this as part of their base ECM solution, GlobalSearch, and it is quite effective for low document loads. Square 9 also offers a dedicated capture solution, GlobalCapture. This includes templated document capture that recognizes the formatting of specific documents and automatically indexes the data as it's been mapped. This capture solution makes economic sense for medium to large document loads as it removes most human touchpoints and saves more time. Finally, for large volumes of documents, there are options that don't require mapped templates to capture information. These systems have a higher price point but can drastically speed up the document capture process.
Cloud Computing
According to an article by Globe News Wire, The cloud solutions market has a compound annual growth rate of 17.5% and is expected to rise from its $371.4 billion worth in 2020 to $832.1 billion by 2025. Many leading software providers like Microsoft, Adobe, and Apple are offering cloud-based options for many of their products, and with very good reason. For the ECM industry, cloud models mean access to business-critical information wherever you are. This is incredibly important now more than ever as we see drastic global shifts toward a remote/hybrid workforce. What's more, cloud solutions keep data safe in the event of a fire, flood, or other types of disasters. Most businesses fail within 2 years of a disaster because of the loss of this information and because of their inability to continue business off-site. When you factor in the upgrades, maintenance, cooling, and countless other on-premise costs eliminated in a Cloud ECM model, it's no wonder why so many people are making the switch.
While there are many benefits to implementing a cloud solution, it's important to ensure that the system you choose is secure and compliant with industry regulations. After all, many documents that businesses work with contain sensitive information such as tax information, social security numbers, personal health information, phone numbers, addresses, etc. Failing to safeguard protected information can result in steep fines, legal fees, and bad press, none of which any company wants. Implementing a cloud solution with permission-based access controls and SOC 1, 2, and HIPAA compliance can help ensure information is adequately stored. Other good signs of security are in storage and in transit encryption, which thwarts most hacking attempts, and separately siloed data, ensuring that one user's actions don't affect everyone.
Solution Scalability
When implementing an Enterprise Content Management system, the expectation is that the solution will continue to perform for years to come, so scalability is an important feature to look for. With a system designed with growing businesses in mind, you should be able to easily add storage to your ECM system, processing power and ram to your capture system, and additional features and functionality to your solution as a whole. Suppose you want to add additional automation tools or integrations, for example. In that case, these additions should be selected in a way that makes them feel like additions rather than an entirely new system. Square 9, for example, offers a number of no-development integrations with QuickBooks, Microsoft Dynamics, Sage, Salesforce.com, and Outlook that share captured information and eliminate the need to manually input data. Square 9 also offers modular workflow automation, document capture templates, and other system additions that are fast, easy, and inexpensive to upgrade. This ease and readiness is a key aspect to consider when choosing a solution and carries over to Square 9's capture solution, GlobalCapture Cloud, which allows you to quickly upgrade the processing power on the solution during busy times and scale it down to meet your business needs.
Enterprise Content Management is crucial to any successful digital transformation, and with growing demand, implementing an ECM strategy is quickly becoming a must for many organizations. In fact, Forbes Magazine states that 70% of businesses have or are in the process of creating a digital transformation strategy, and 55% of companies who have yet to digitally transform believe they have a year before they start to lose market share. These approaches and features can help your research and implementation phase get off to the right start and ensure you have an impactful solution for years to come.
Square 9 is an end-to-end Digital Transformation company that provides cloud and on-premise enterprise content management, document capture, process automation, and web forms solutions that are affordable, easy to implement, and scalable. To find out more, contact us.